Abrasives: Sanding Discs & Sanding Pads
What is a sanding disc?
Sanding discs and sanding pads are used in conjunction with an angle grinder to quickly remove metal stock. As well as being used for stock removal they can be used to polish and smooth out surfaces of a surface.
They are similar to a flap disc, however, they are a continuous piece of abrasive material rather than having layered flaps.
Sanding discs must be used with a backing pad. Backing pads usually threaded on to a power tool, such as an angle grinder.
The disc is then placed on to the backing pad. The retaining nut is then nipped up tight to hold the disc in place. An example of a backing pad and sanding pad can be seen below.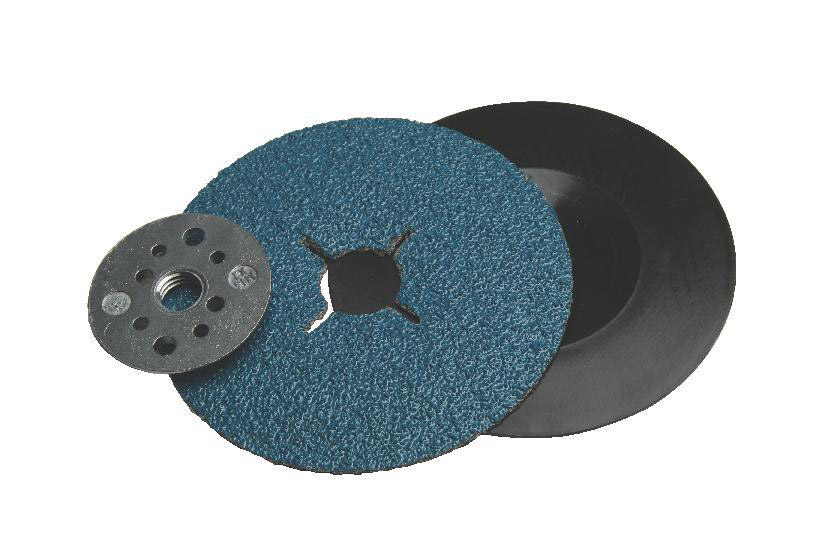 What types of sanding disc are available?
Much like flap discs there is a selection of abrasive material types available when it comes to sanding discs. The most common options available include aluminium oxide, zirconium & ceramic.
Aluminium oxide sanding discs are used on less intense jobs. This is because aluminium oxide is not overly aggressive, nor does it offer a particularly impressive lifespan. They are usually a maroon colour.
Zirconium sanding pads are the standard industry choice. They offer great price to lifespan ratio, whilst offering a good level of aggression. They are usually a blue colour.
Ceramic sanding discs are for very intense jobs, such as heavy stock removal or work with more exotic materials. They are considerably more expensive than the other two options. However, they offer a long lifespan and high levels of aggression.
We often preach that despite being more expensive, they do not cost more in the long run. In some cases they can go 5 to 1 against aluminium oxide or zirconium discs, whilst obly being 2-3 times the price.
Other kinds of sanding discs
On this page we primarily offer sanding discs for materials such as steel, stainless steel, aluminium, wood & plastic. However, we also offer other kinds of sanding discs. Our selection includes hook and loop sanding discs which are commonly used for drywall or plaster sanding. They also commonly have holes to allow for dust extraction.
In addition to this we offer PSA sanding discs. PSA stands for pressure sensitive adhesive. These are typically used with a power tool such as an orbital sander for general sanding applications.
Which abrasive brands do you offer?
Our sanding pad selection includes products from industry leading brands. Our key abrasive supply partners include Tyrolit, Klingspor, Abracs & Sonnenflex. In addition to this we can also offer 3M abrasives product at very competitive prices.