Gas and Gasless MIG Welders for DIY & Industrial Use
MIG is an acronym which stands for Metal Inert Gas. MAG stands for Metal Active Gas. MIG is the term used when an inert gas such as argon is used for weld shielding, MAG is the term used when an active gas such as CO2 is used to shield the weld.
MIG welder are commonly used as they are fast and efficient. They use a metal wire to create an electrical welding arc which melts the wire. The MIG / MAG process uses a protective gas to give a smooth & consistent weld. Pulse & double pulse MIG welders have become popular in recent times as they give a perfect result on all materials, especially stainless steel & aluminium.
We have MIG welding machines that are MIG only type. We have have multi process MIG welders that do MIG, TIG & MMA.
Welding Supplies Direct are proud to be the sole UK distributor for Paton MIG welding machines. Paton are a Ukrainian manufacturer of high quality welding sets and were responsible for manufacturing the first welding machines in spaces in 1984. Paton have a wide range of MIG welders including the PSI range which are compact, lightweight and feature packed, the StandardMIG 160 is priced very well and beats every other "close competition" machine on practically every technical spec and has bags more features, too. Ask our sales team for more details!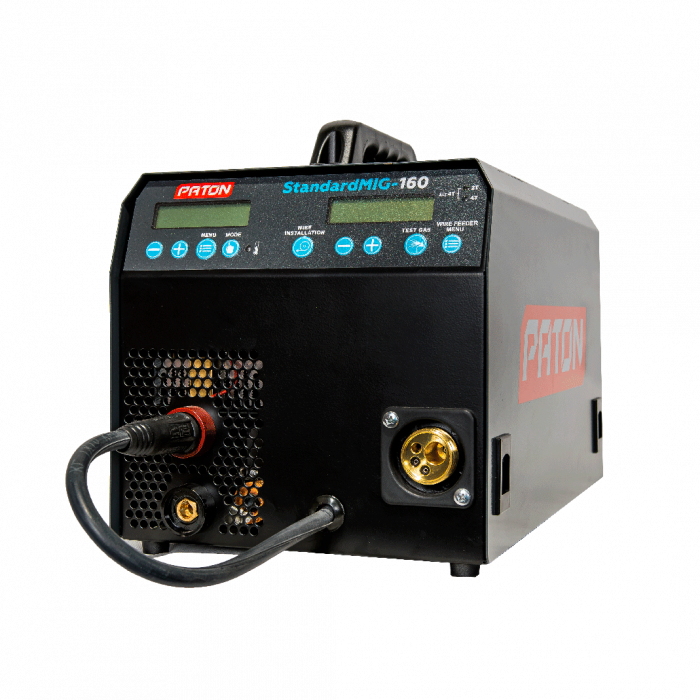 We can help you choose a MIG welder!
Our staff are experts in helping you to find the perfect machine for your needs. All we need is some information to help us find the right machine for you, simply tell us:
Which materials you want to weld.
What the maximum thickness of material you want to weld is.
Your available electrical input supply.
Any other requirements you have such as portability, ease of use etc..
Once we have that information we can provide you with details on the machines that suit your needs. Consequently, you'll be able to make a fully informed decision regarding which MIG welder you purchase. We can also arrange a free on-site demonstration on most machines; a hands on 'test drive' will help you know whether the machine is for you, or not.
Welding Supplies Direct stock a huge range of MIG welders. Also, we sell all MIG welding consumables and spares.
In addition, we offer our 'Ready to Weld' packages. These can be looked at as a 'Just Add Gas' solution as they include all of the necessary items to get you off the ground with MIG welding. We aim to offer a one-stop-shop solution for all your MIG welder needs.
All of our machine packages include a free MIG torch and are available with fast, free delivery. Our wide range of brands cover all bases. Our brands include Oxford, Jasic, Parweld and more. We have the lowest prices and best service online.
Frequently asked questions about MIG welders
Is a gas or gasless mig welder more suitable for me?
For the most part gas mig welders will produce a better more visually pleasing weld with less spatter. Gasless mig welders utilise a type of welding wire called flux cored wire which works in a very similar way to an arc welding rod. This wire burns very hot and produces substantial amounts of spatter.
As a result of how hot flux cores wire burns gasless mig welders are not suitable for welding thin material, such as is found on car bodies. Whilst gasless MIG welders certainly have their place in the market we would recommend purchasing and using a gas mig welder wherever possible.
Which materials can be welded with a MIG welder?
In theory, all common metals can be welded with a MIG welder. This includes carbon steel, stainless steel, aluminium and many more.
Most MIG welders are capable of welding all materials, however, some are better suited to welding "difficult" materials such as aluminium. The most important thing to remember is to match the welding wire and shielding gas to the material you are welding
Is it possible to MIG weld aluminium?
Yes, MIG welding aluminium is possible! Aluminium welding wire is inherently softer than steel welding wires. Therefore, we recommend choosing a MIG welder with a 4 roll wire feeder, rather than a 2 roll wire feeder.
Why?
As a 4 roll wire feed unit will feed the wire in a smoother fashion, this preventing or reducing the potential for wire "birds-nesting".
In addition to this, you will need to ensure that you fit a Teflon (PTFE) torch liner, U groove wire feed rollers, a short (3 metres in length or shorter) MIG torch and an oversized contact tip. Utilising all of the above measures will ensure problem free welding of aluminium.
You can weld aluminium with a standard MIG welder or, preferably, with a pulse MIG welder. Alternatively, you can utilise a spool gun or push pull gun to make welding aluminium a breeze.
Most importantly, you must remember to use pure argon shielding gas rather than an argon/co2 mixed shielding gas.
Should I buy an inverter mig welder or a transformer mig welder?
Transformer MIG welders have long been popular due to their simplicity and ease of use. However, due to law changes they can no longer be manufactured after December 2022. Therefore, all newly manufactured MIG welders will be inverter based as of January 2023.
Inverter based MIG welders have many benefits such as being more lightweight, more energy efficient and multi-process capable. Whilst early manufactured inverter based welding machines were not as reliable as transformer based MIG welders the technology has advanced leaps and bounds ahead of what it was and they are now equally, if not more, reliable than transformer based machines. Therefore, for many reasons, we would recommend an inverter based MIG welding machine.
What shielding gas do I need for MIG welding?
The answer to this question depends on the material you are welding.
Carbon or mild steel is welded with an argon co2 mixed gas. The majority of the mixture is argon whilst the co2 content varies between 5 and 25 percent of the total mixture. The the thicker the material being welded the higher the co2 content should be. For example, we usually recommend a 12-15% co2 content for welding 10-15 millimetre thick material.
Pure co2 can also be used as a shielding gas for steel MIG welding but it does a produce a very hot and "spattery" weld.
Aluminium must be MIG welded with pure aluminium. It is also possible to MIG welded alimony with pure helium or an argon/helium mix.
Helium gas mixtures are often very costly and oftentimes this prohibits legitimate cost-effective use of these gas mixtures. However, where time is of the essence or an increase in travel speed is required helium gas or gas mixtures are recommended. Helium can also help improve the aesthetics of a weld.
Stainless steel should be welded with either a low co2 content argon/co2 gas mixture or a "tri mix" gas. This type of gas mixture usually consists of argon, co2 and helium.
For example, we often recommend using a gas mixture called "Specweld 2" which is 98% argon and 2% co2. We also recommend "stainweld" which is available in either light, universal or heavy variations. Stainweld mixtures consistent of:
Light: 85% helium, 13% argon & 2% co2
Universal: 55% helium, 43% argon & 2% co2
Heavy: 38% helium, 60% argon & 2% co2
Light is used for thin materials, universal is a good "all rounder" and heavy is used for thick (10MM+) thick stainless steel welding.
How does a MIG welder work?
A MIG welder works by feeding a metal wire through a welding torch. Once the wire makes contact with an earthed workpiece the wire will arc. The wire feed motor in the machine constantly feeds wire through the torch as the electrical arc melts the wire at the end of the torch. The welder then moves the torch along the weld seam and the constantly melting wire fills the weld joint, thus joining the two pieces of metal.
The welding torch acts as a conduit for the welding wire and shielding gas as well as being the method of initiation of wire feed motor, gas flow and welding voltage. This is done by means of pulling a trigger on the torch, similar to pulling a trigger on a gun.
MIG Welding Machine Features
What is reverse polarity?
Reverse polarity is the feature that is required in order to weld with flux cored wire. Flux cored and gasless welding wire requires the current to run in the opposite direction to standard solid wire.
Most welding machines with this feature allow for the polarity to be reversed by means of a "fly-lead" that comes out of the front of the machine (as can be seen in the image below)
The use would plug the dinse connector in to either hte + or - slot, depending on the polarity required.
Solid welding wire, such as ER70S-6 (SG2) requires DCEP polarity to weld. This means that the fly lead, which connects to the euro connector, should be connected to the positive outlet.
Most flux cored welding wires require DCEN polarity to weld. This means that the fly lead should be connected to the negative outlet.
On certain machines the polarity is reversed from inside the wire feed unit and involves undoing a screw and switching the polarity manually.
What is wire inching?
A wire inching feature allows for the welding machine to feed welding wire without activating the gas solenoid. This feature is most commonly used to feed the welding wire through the torch upon initial machine setup, or, when a new wire reel is fitted.
The Paton StandardMIG 160's wire inching function can be seen in the image above labelled "wire installation".
What is wire reel capacity?
Wire reels come in 3 different sizes. They are sometimes referred to by their diameters. The smallest being 100MM, with the other two being 200MM & 300MM. 100MM spools are between 0.5KG & 1KG in weight, 200MM spools are between 2KG & 5KG & 300MM spools are between 6KG & 18KG.
The weight of the wire reel depends on the material that the wire is made of.
Certain welding machines can only accept the smallest of wire reels. These are often hobby style MIG welders. Most compact multi process MIG welders are capable of accept the medium size 200MM wire reels. Workshop style machines such as the Miller MIGMATIC range of welding machines are capable of accepting the larger 300MM wire reels as well as the medium 200MM wire reels.
200MM & 300M wire reels have the same diameter centre bore so some machines can accept both size wire reels.
What is a euro torch connector?
A euro torch connector is a generally universal connector for connecting a welding torch to a MIG welding machine.
The euro connector is made up of two pins which are shorted by means of a trigger switch in order to activate the wire feed and gas solenoid. It also include a slot for the wire to feed through as well as a slot for the shielding gas to feed through. The connector on the machine is "female" and the welding torch is mirror but in "male" format.
A MIG welder euro connector is pictured below.
Euro connectors eliminate the need for different OEM connectors and direct connection MIG welding torches.
What is voltage adjustment?
MIG welding is a constant voltage welding process. The welding current is produced as a result of the welding voltage, wire feed speed and welding wire diameter.
To adjust the "heat" of a weld the user must adjust the voltage that the machine produces.
This is done either by means of voltage steps on a transformer based MIG welder or by means of a potentiometer knob on an inverter based MIG welding machine.