Quick Jump
Select a link from below to view more
Generators & Welder Generators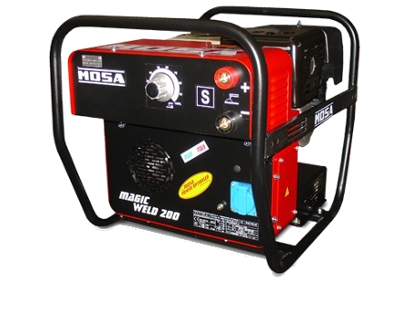 Welding Supplies Direct are pleased to offer a wide range of petrol and diesel welding generators for the professional and DIY user.
We are proud to promote such brands as MOSA, Miller Big Blue, Harington Spitfire welding generators.
Models such as Petrol Welder, Diesel Welder, Diesel Welding Generator, Petrol Welding Generator, Miller Big Blue 400, Mosa, Harrington Spitfire, New Magic Weld, MAGIC WELD 200, MAGIC WELD 200 YD, MAGIC WELD 200 YDE, TS 200 DS-DES/CF, TS 200 DES/EL, TS 200 BS/EL, TS 200 KDES/EL, TS 200 BS/CF, TS 250 KD/EL, CS 230 YSX CC/CV, TS 300 KS-KSX/EL, CS 350 KSX CC/CV, TS 400 KS-KSX/EL, TS 350 YSX-BC, TS 615 VS-VSX/EL BC, TS 400 PS/EL BC, TS 500 PS BC 60Hz, TS 600 PS BC, TS 2x400 PSX BC, DSP 400 YSX, DSP 500 PS, DSP 600 PS, DSP 2x400 PSX, Lincoln Ranger 305-D - K2279-3, Lincoln Vantage400 - K2502-3, Lincoln Vantage 500 - K2503-3, SIPGenerator welder, SIP PETROL WELDER. are available at the best prices in the UK.